Best Pilonidal Sinus Treatment in Ranchi
WHAT IS PILONIDAL SINUS?
A pilonidal sinus (PNS) is a small hole or tunnel in the skin. It may fill with fluid or pus, causing the formation of a cyst or abscess. It occurs in the cleft at the top of the buttocks. A pilonidal cyst usually contains hair, dirt, and debris. It can cause severe pain and can often become infected. If it becomes infected, it may ooze pus and blood and have a foul odor. A PNS is a condition that mostly affects men and is also common in young adults. It's also more common in people who sit a lot, like cab drivers.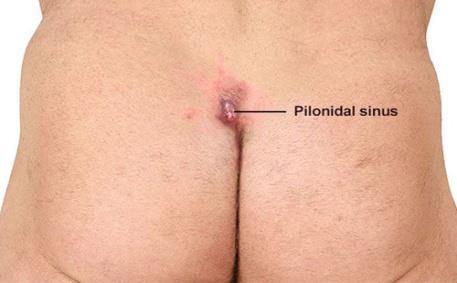 CAUSES OF ANAL PILONIDAL SINUS
The cause of these cysts is not clear. They may form when a hair is forced under the skin or when a hair follicle ruptures. Or, a person may be born with the cyst. Best Pilonidal sinus doctor in ranchi.
SYMPTOMS OF PILONIDAL SINUS:
Pain when sitting or standing
Swelling of the cyst Swelling of the cyst. Pus or blood draining from the abscess, causing a foul odor Hair protruding from the lesion Formation of more than one sinus tract, or holes in the skin
You may also experience a low-grade fever, but this is much less common
TREATMENT:
Best Pilonidal Sinus Treatment in Ranchi
(1) Kshar Sutra Therapy: Kshar Sutra is placed in the whole infected tract. It helps in eliminating all the infection, hair and infected tissue. Kshar Sutra is changed at regular interval. Number of seatings and Duration of treatment depends upon the extent of infection.
(2) Major Surgery: Excision of the cyst for infection that is severe, does not respond to medications, or keeps coming back. A surgeon cuts and removes the cyst and the tissue around it