Best Rectal Polyp Treatment In Ranchi
WHAT IS RECTAL POLYP?
It is mass or swelling arising from mucosal lining of bowel wall. It may be pedunculated or sessile. The polyp consists of rounded head and long pedicle which is attached to the mucasal surface. It my occur any where in the large intestine but most common site of polyp is rectosigmoidal region.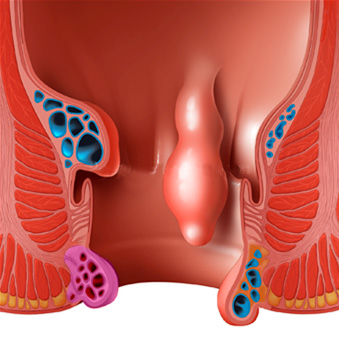 CAUSES OF ANAL RECTAL POLYP
Don't know the exact cause of colonic polyps, but polyps result from abnormal tissue growth.
The body periodically develops new healthy cells to replace old cells that are damaged or no longer needed. The growth and division of new cells is usually regulated. In some cases, however, new cells grow and divide before they're needed. This excess growth causes polyps to form. The polyps can develop in any area of the colon.
SYMPTOMS OF RECTAL POLYP:
Rectal polyp is common in children between 3-11 years of age. Bleeding and protrusion of mass during defaecation replaced it self or digitally is the common complaints of patient. Some times there is no protrusion of mass during defaecation only bleeding is the main complaints
TREATMENT:
The polyp is delivered out at anal orifice and Kshar Sutra is ligated